Medical Waste Pros sharps program offers an opportunity to help your community while implementing a new revenue stream for your business! We are looking to partner with businesses that are familiar with the proper handling and disposal of medical sharps.
There are over 8 million people in the United States that self-inject prescribed medications at home and accumulate those sharps in their personal residences. This can include people who suffer from diabetes, cancer, Crohn's disease, arthritis, thick blood and much more. While professional businesses typically have easier access to a solution, the people at home are not as lucky. Dropoff sites for medical sharps are nearly non-existent for the public at large.
To help the environment and community, Medical Waste Pros has developed a unique program with no cost to our partners!
Benefits
One sharps bin has the potential to generate $300-$500+ in net income per pick up.
Offset your current cost for sharps disposal.
Generate more revenue.
We market the bin for you.
Introduce new customers to your business.
Help the community and environment.
How the Dropoff Sharps Program Works
Once you become a partner with Medical Waste Pros, your journey to more revenue and helping the community/environment will begin. A medical waste sharps bin will be drop-shipped to your location within approximately 3-4 weeks. Once the bin arrives, we will begin marketing the bin and sending customers directly to you! Customers will bring in their secured sharps container and deposit it into your bin. You will set the pricing and collect the fees. Once the bin is full, we will have the sharps properly disposed of. All of our marketing services to direct customers to your store are provided free of charge.
To Get Started
Is the opportunity to generate additional revenue for your business at no cost of interest to you? If it is, then please feel free to fill out a Become A Partner form or contact us at 720-437-8139. We are happy to explain our sharps program and answer any questions you may have. It is our goal to give you an opportunity to generate more revenue while also solving a community issue.
FAQ
A. Placing the bin in my store: How big is the bin? Where do I place it? What does it look like?
Our sharps bin is 26" x 23" x 49". You can choose the placement of your bin. It is not required to be in plain sight.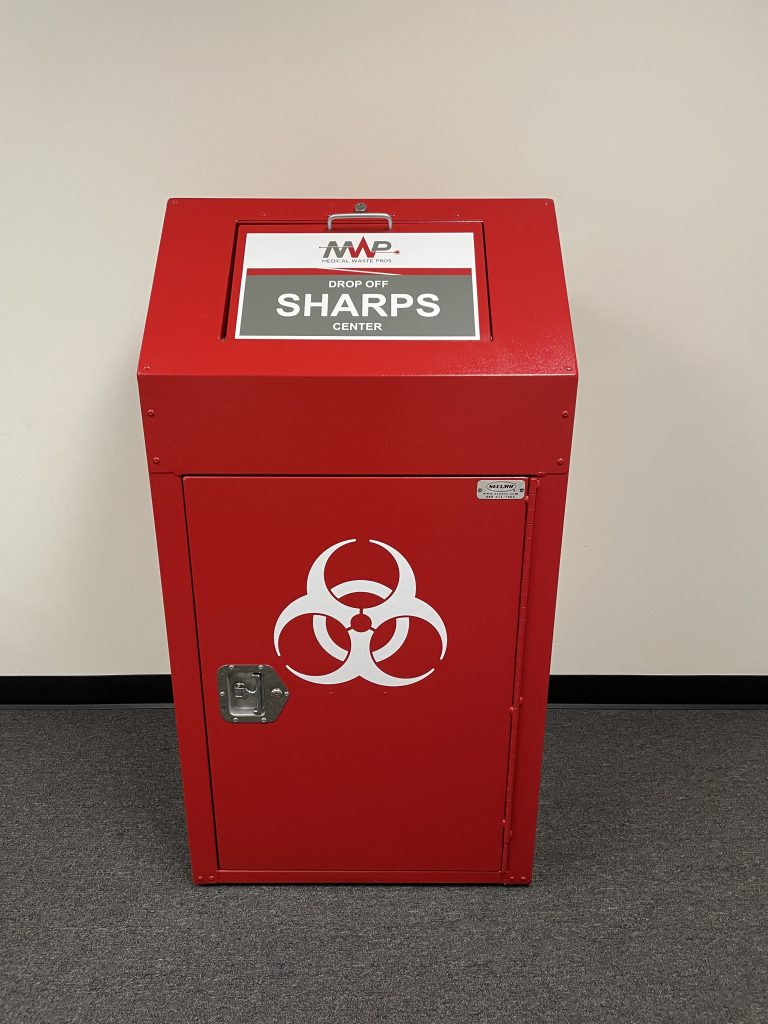 B. Has the pilot program been tested?
Yes. Our current dropoff location in our Lakewood office has generated over $500.00 in net income in sharps dropoff charges within roughly 30 days. We believe that revenue will increase as internet exposure and inquiries increase.
C. How much will this program cost me?
Our sharps dropoff program comes with no cost to our partners. We will only invoice you once your bin is full and it has been serviced. At that point you will have already collected fees for the sharp containers that customers have deposited with you. All of our marketing services to drive and direct customers to your business are provided free of charge when you partner with us.
D. How many drop off customers should I expect?
Being this is a pilot program; this number will fluctuate as internet exposure increases. Currently at our Lakewood dropoff sharps location, we are seeing between 3-4 clients per week. We expect that to grow as our internet marketing efforts expand with the addition of more drop off locations.
E. Who is the target audience for dropoff sharps?
People who are looking to responsibly dispose of their medical sharps come to us through an internet search. They are clients that self-inject prescription drugs at home. This can include people who have diabetes, cancer, Crohn's disease, arthritis, thick blood or many other conditions.